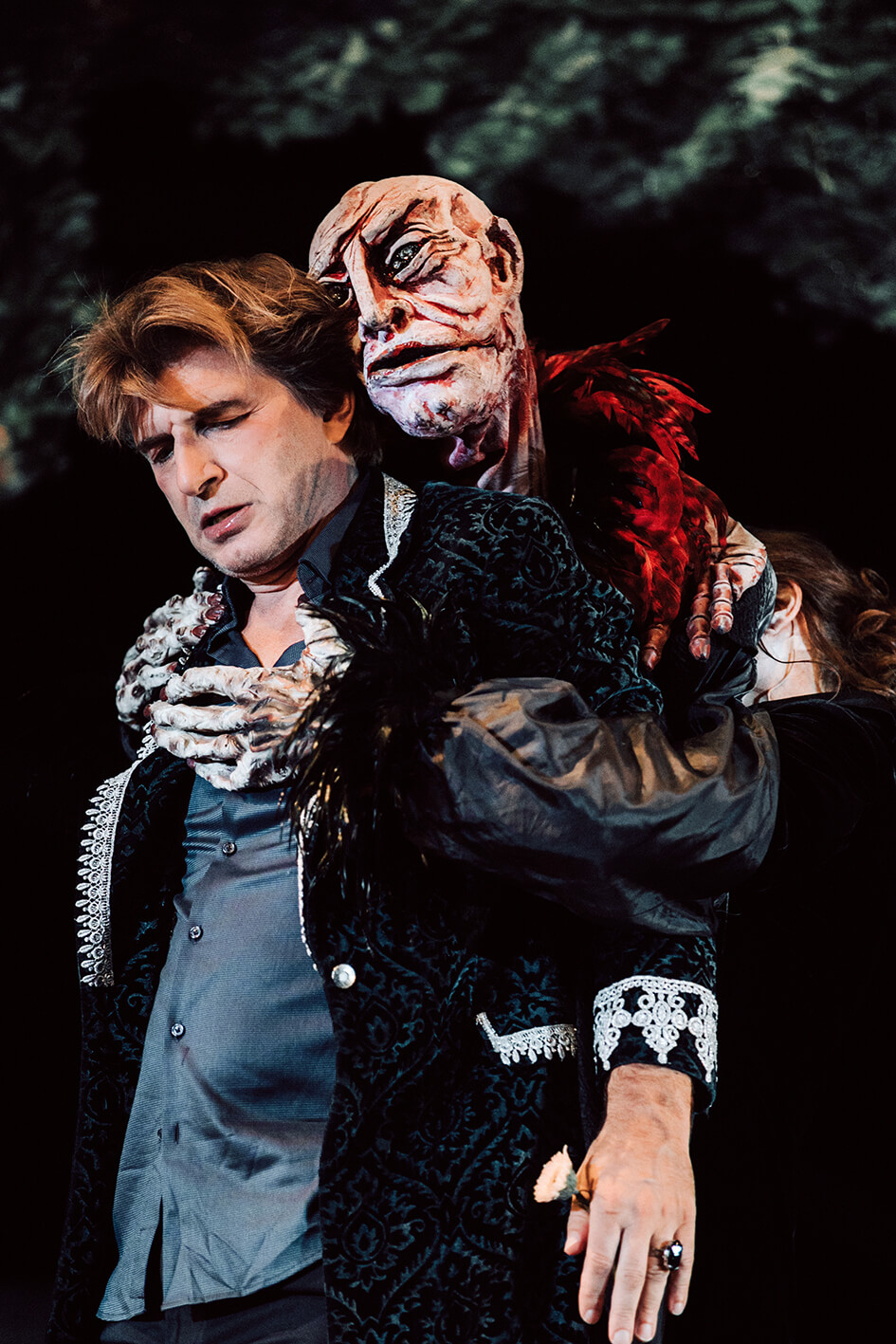 Tue 16.05 8.00 p.m.
Faust. Der Tragödie erster Teil
von Johann Wolfgang von Goethe / Schauspiel mit Menschen und Puppen
Buy tickets
CHF 60.– / 50.– / 40.–
concession tickets starting at CHF 15.–

for ages 14+
Duration: 140 min. with an intermission
Language: German

Talk before the performance at 7.30 p.m. (in German)
Theatersaal
extraordinary | entertaining | wild
Is that all there is? Surely not! Doctor Faustus is wracked with doubt and despair. Having dedicated his life to knowledge and wisdom, he still has the feeling that that he has not achieved anything or indeed has any idea of "whatever holds the world together in its inmost folds". He curses reason and science and is more than ready to put his money where his mouth is and take his own life. Then he crosses paths with the diabolically appealing Mephistopheles, who offers the good doctor a chance to slake his thirst for knowledge and experience. In return, Faustus promises him his soul and lets him take him on a journey through the wild side of life. He is enchanted and pleasured, reunited with youth and love, but in no way does his soul find repose or calm.
This unusual and entertaining production by the exceptional artist that is Nikolaus Habjan will enthral younger and older audiences alike. It gives all Goethe aficionados, fans of the classics and adepts of this successful (new) interpretation the opportunity to sign up for a pact as exciting as the fatal theatrical deal between Faustus and Mephistopheles.
Cast
Faust Daniel Doujenis
Mephistopheles Manuela Linshalm
Margarete Lisa Rothhardt
Der Herr, Brandner, Marthe, choir Helmut Pucher
Wagner, witch, choir Christoph Steiner
Archangel Raphael, earth spirit, frog, monkey, Valentin, choir Michael Großschädl
Archangel Gabriel, Siebel, monkey, choir, will-o'-the-wisp Martin Niederbrunner
Director Nikolaus Habjan
Stage design Jakob Brossmann
Costumes Denise Heschl
Production Next Liberty, Graz
© Stella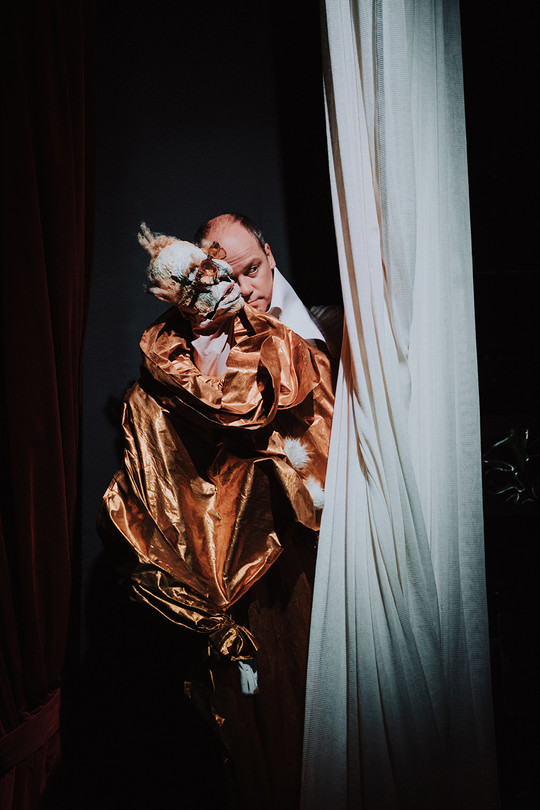 © Stella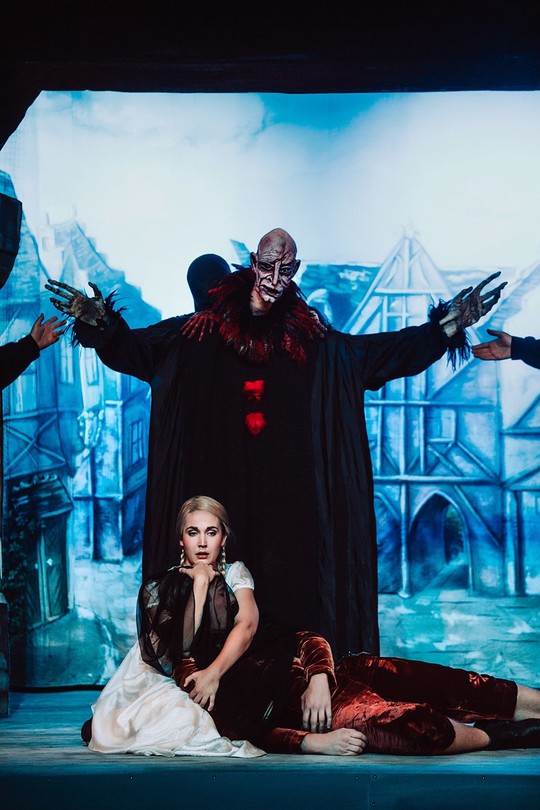 © Stella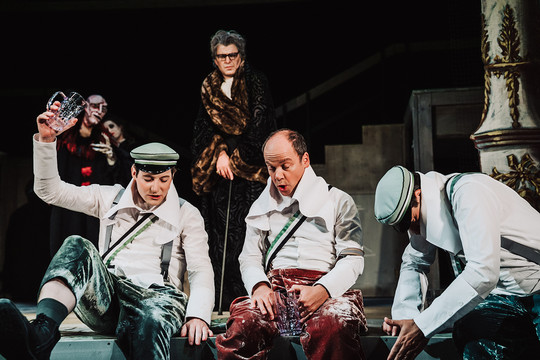 © Stella
More events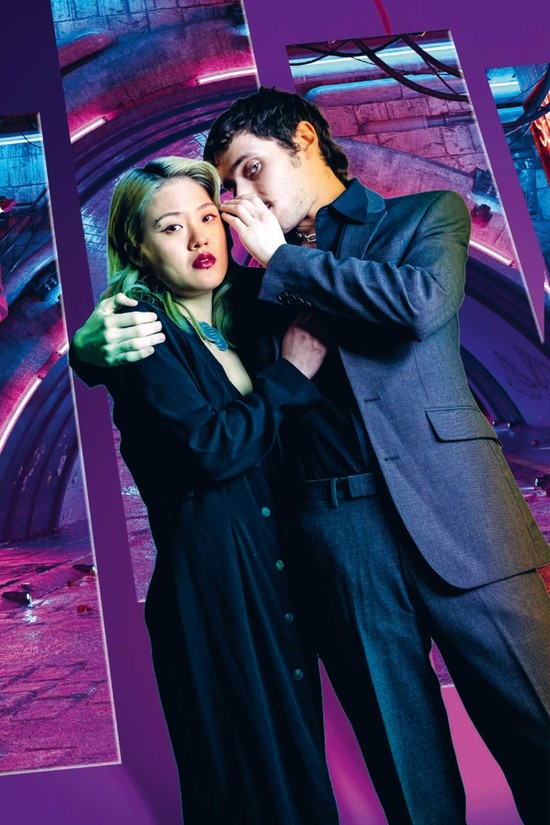 Macbeth – retold by imitating the dog
Multimedia theatre in English based on William Shakespeare
Jacques Brel – Der dienende Rebell
Grégoire Gros, Chansonnier & Zuger Sinfonietta